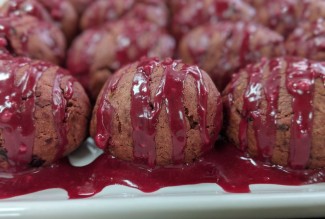 Using beet powder makes these donut holes a fun color! Use beet juice and powdered sugar to create a matching glaze.
Ingredients
For the Donuts:
½ cup almond milk
1 Tablespoon flaxmeal
2 cups all-purpose flour
1 Tablespoon baking powder
1 teaspoon salt
¼ cup beetroot powder
½ cup sugar
6 Tablespoons coconut oil (solidified)
Glaze:
2 cups powdered sugar
1 Tablespoon beet juice
Instructions
For the donuts: Combine almond milk and flaxmeal. Let stand for at least 15 minutes.
In a mixing bowl, whisk together flour, baking powder, salt, beetroot powder, and sugar.
Add solidified coconut oil, and work through dry flour mixture with hands or a pastry cutter until flour mixture is crumbly like sand.
Add almond milk and flaxmeal mixture and mix until a ball of dough is created.
Transfer dough to a floured surface and knead about 10 times.
Measure out a tablespoon of dough at a time. Roll into a ball and place on a lined baking sheet. Repeat until all dough has been used.
Bake donut holes for about 15-20 minutes.
For the glaze: Allow the donuts to cool to room temperature.
In a mixing bowl, combine powdered sugar and beet juice. Whisk until combined.
Use a toothpick to pick up a donut hole. Dip the donut hole in beet glaze, then replace on baking sheet and allow the glaze to harden. Repeat until all donuts have a glaze coating. Enjoy!