Gluten Free Blueberry Maca Scone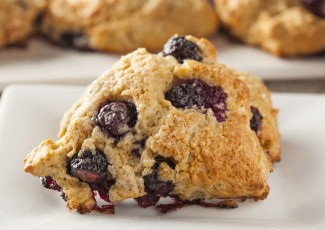 Gluten free, low sugar, packed with delicious maca and antioxidant rich blueberries. These scones are the holy grail of breakfast.
Ingredients
1 ¾ cup gluten free all-purpose flour
¼ cup maca powder
1 Tablespoon baking powder
½ teaspoon salt
1 teaspoon xylitol or stevia
½ cup chilled butter, cubed
1 Tablespoon flaxmeal + 2 Tablespoons water, soaked for 15 minutes
½ cup cashew milk (or non-dairy milk of choice)
1 teaspoon vanilla
1 cup blueberries, frozen or fresh
Instructions
Preheat oven to 350̊.
In a medium mixing bowl, whisk together gluten free flour, maca powder, baking powder, salt, and xylitol or stevia.
Add cubed butter and use 2 knives or a pastry cutter to cut the butter into the dough. Cut butter into dough until only pea-sized bits remain.
Add soaked flaxmeal, cashew milk, and vanilla. Mix with a wooden spoon until combined.
Add blueberries and mix until combined.
Transfer dough to a floured surface. Flatten out into a circle, about 1 – 1 ½ inches thick.
Cut dough into 8 triangles. Transfer to a lined baking sheet and bake for 18-20 minutes.