Gluten-Free Strawberry Mint Muffins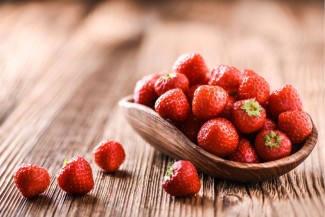 Make these muffins ahead of a busy week and you'll have a hearty and filling breakfast ready to go!
Ingredients
2 Tablespoons flaxmeal
⅓ cup water
2 cups gluten free all-purpose flour
¾ cup coconut sugar + more for garnish
2 teaspoons baking powder
1 teaspoon salt
¾ cup almond milk
1 Tablespoon lemon juice
¼ cup coconut oil
1 teaspoon vanilla
1 cup fresh strawberries, diced
¼ cup fresh mint, finely chopped
Instructions
Preheat oven to 350 degrees.
Make flax egg.
Combine dry ingredients.
Combine almond milk and lemon juice.
Combine wet ingredients.
Fold wet ingredients into dry until just combined.
Fold in the mint and strawberries.
Fill muffin tins and bake for approximately 35-40 minutes.
Remove from pan and allow to cool on a wire rack.