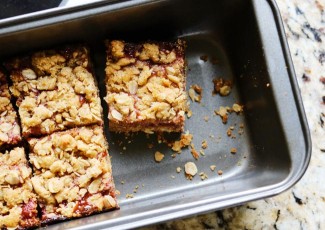 This simple baked oatmeal can be baked at night for an easy breakfast the next morning. Simply cut and toast just like bread for a wholesome and easy meal during busy mornings. Change up the fruit combination as you like.
Ingredients
1½ cups chopped fresh fruit (bananas, mango, pineapple)
2 cups rolled oats
½ cup quick oats
½ cup shredded, toasted coconut
1 teaspoon baking powder
Pinch sea salt
1 cup vanilla-flavored non-dairy milk
½ cup apple butter
¼ cup agave nectar, honey or maple syrup
2 teaspoons vanilla extract
Instructions
Preheat oven to 375º. Layer fruit on bottom of 8x8 baking dish and set aside.
In a large bowl, combine oats, coconut, baking powder, and salt. Set aside.
In another bowl combine milk, apple butter, sweetener and vanilla extract. Stir into oat mixture and pour on top of fruit in baking pan. Smooth top and ensure that oatmeal presses into fruit. Sprinkle the top with extra (non-toasted) shredded coconut, if you like.
Bake for 35-40 minutes, until center of oatmeal has set. Let cool slightly before serving. This makes excellent leftovers for quick snacks or breakfasts.