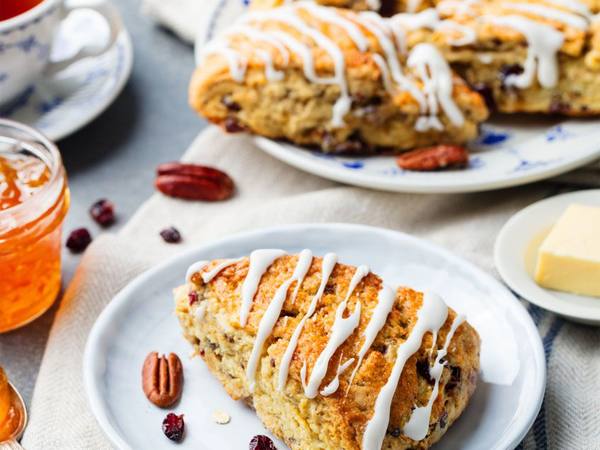 Cranberry Pumpkin Scones
These super easy scones make for delicious holiday mornings.
Updated: Fri, 12/18/2020 - 8:26pm
Ingredients
1½ cups whole wheat pastry flour
1½ cups unbleached all-purpose flour
1 Tablespoon baking powder
½ teaspoon baking soda
½ cup granulated sugar + more for topping
¾ teaspoon cinnamon
½ teaspoon nutmeg
¼ teaspoon ground ginger
¼ teaspoon cloves
½ teaspoon salt
8 Tablespoons cold coconut oil
1 cup canned pumpkin
¼ cup almond milk
1 teaspoon apple cider vinegar
1 teaspoon vanilla extract
1 cup chopped fresh cranberries
Instructions
Preheat oven to 400°. Line a baking sheet with parchment paper.
In a large bowl, whisk together flours, baking powder, baking soda, sugar, spices and salt.
Add cold coconut oil and combine using a pastry cutter or two knives, until it resembles a coarse meal.
Meanwhile, whisk together almond milk and vinegar. Allow to sit for 1 minute to curdle. Add vanilla extract and mix.
Add pumpkin to dry mixture and mix to combine.
Fold in cranberries.
Add almond milk mixture and combine well. Careful not to over mix.
Transfer dough onto a floured work surface and fold a couple times.
Using your hands press dough into a round disc 1½" – 2" thick.
Cut dough into 8 triangle pieces.Place scones onto prepared baking sheet. Sprinkle with raw sugar and bake for 20 minutes. Enjoy!