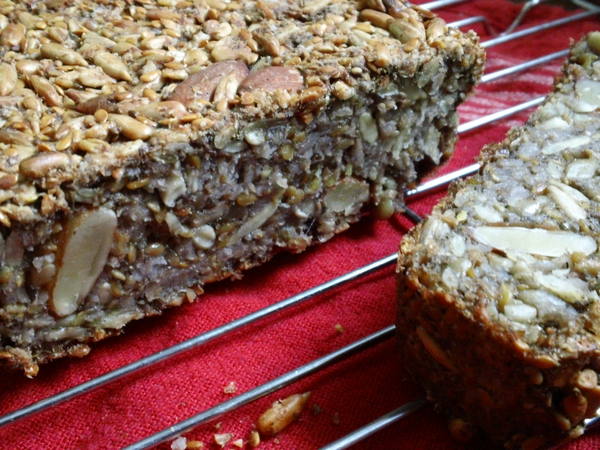 Danish Bread
Unlike traditional fluffy American bread, Scandinavian breads are loaded with whole grains, nuts and seeds and have a dense texture.
Updated: Fri, 09/13/2019 - 2:17pm
Ingredients
1½ cups rolled oats
1 cup sunflower seeds
½ cup flax seeds
½ cup chopped hazelnuts
¼ cup psyllium seed husks
2 Tablespoons chia seeds
1 teaspoon sea salt
1½ cups water
3 Tablespoons olive oil
1 Tablespoon honey
Savory additions:
½ teaspoon each rosemary, dried garlic, and caraway seeds
Sweet additions:
¼ cup currants or raisins
1 teaspoon cinnamon
Coconut sugar for garnish
Instructions
In a large bowl combine all dry ingredients.
In a measuring cup, whisk together water, olive oil, and honey (whisk in savory or sweet additions if using). Add to dry ingredients and stir thoroughly to combine; mixture will be a little bit soggy. Pour into bread pan and smooth top. Cover, and let rest overnight at room temperature.
Preheat oven to 350°.
Bake bread for 20 minutes. Carefully flip bread directly onto oven rack and bake for another 40-45 minutes, until very browned on outside, and sounds hollow when tapped. Let cool completely before slicing or freezing.
Serve with spreads, jams or butter. Enjoy!