Spiced Blueberry Buckwheat Biscuits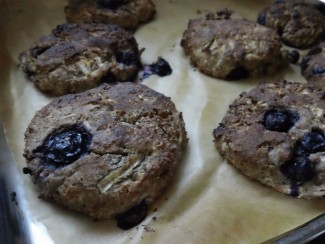 These simple gluten-free biscuits are perfect for breakfast, brunch, or for tea time!
Ingredients
1¾ cups oat flour
1¼ cup buckwheat flour
1 Tablespoon + 1 teaspoon arrowroot powder
1 teaspoon cinnamon
1 teaspoon baking powder
½ teaspoon baking soda
½ teaspoon cardamom
¼ teaspoon sea salt
⅓ extra virgin coconut oil, slightly melted
¼ cup almond butter
1 cup vanilla-flavored soy yogurt
2 teaspoons vanilla extract
1½ cups shredded apple
½ cup frozen blueberries
Instructions
Preheat oven to 450º and place baking sheet in the oven. Lay a piece of parchment paper onto countertop or a cutting board.
Mix together flours, arrowroot, cinnamon, baking powder, baking soda, cardamom and salt in a large bowl.
Add coconut oil and almond butter and crumble with flour using a fork, until flour is slightly crumbly.
Add soy yogurt, vanilla extract, apples, and blueberries and stir to combine. Dough will be very sticky.
Use a ¼ cup measure and scoop out dough. Drop onto parchment paper and flatten to ½-inch thick.
Remove baking sheet from oven and carefully place biscuits and parchment onto sheet. Bake for 15 minutes. Serve with butter, coconut oil, or jam. Enjoy!