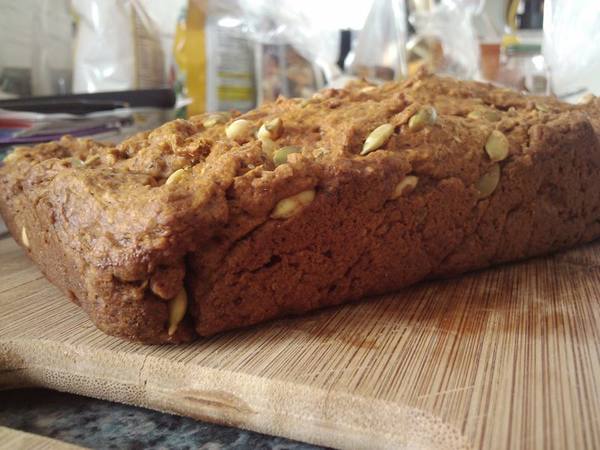 Pumpkin Seed Bread
Ground flax seeds (or ground sunflower seeds) can easily be added to most baking recipes. Simply replace ¼ cup flour with ¼ cup ground flax seeds to add a nutritional boost without affecting the flavor.
Yield:
1 - 9" loaf bread loaf
Updated: Wed, 04/04/2018 - 9:12pm
Ingredients
Chia Seed Gel (substitute for 2 eggs):
2 Tablespoons ground chia seeds
6 Tablespoons water
Bread Mixture
½ cup whole wheat pastry flour
¾ cup whole wheat flour
¼ cup ground flax seeds
¾ teaspoon salt
¾ teaspoon baking powder
½ cup brown sugar
1 teaspoon vanilla extract
2 medium bananas, mashed
½-¾ cup toasted pumpkin seeds
Instructions
Preheat oven to 350°. Generously grease a 9" x 5" x 3" bread loaf pan.
Prepare Chia Seed Gel. In a small bowl, whisk ground chia seeds and water until a gooey consistency is achieved. Let sit for 5-10 minutes to thicken. Set aside.
In a medium bowl, whisk together both flours, ground flax seeds, salt and baking powder.
Combine Chia Seed Gel sugar, vanilla and bananas in a large bowl. With an electric mixer on low speed, beat until well combined.
Continuing to use electric mixer at low speed, combine Chia Seed Gel mixture with flour mixture and beat until just incorporated. Do not over-mix; batter should be chunky, not smooth.
Mix in pumpkin seeds by hand.
Pour batter into pan and spread out evenly.
Bake 30-40 minutes until dark golden brown. After 15 minutes, rotate pan. Bread will be ready when a fork inserted in the middle comes out clean.
After removing from oven, allow bread to cool for a few minutes in pan. Remove from pan and let cool on a wire rack.
This bread can be enjoyed immediately or kept up to 4 days at room temperature if wrapped tightly in plastic wrap. Use leftovers to make Pumpkin Seed Bread Pudding. Enjoy!