Almond & Orange Rice Pudding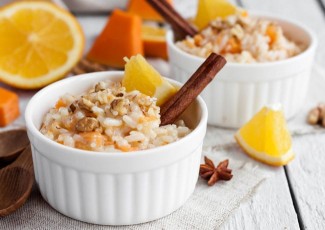 This classic North Indian dessert features the beautiful combination of orange, cardamom, and almond.
Ingredients
1 cup short grain brown rice, soaked overnight
1½ cups unsweetened almond milk
1½ cups coconut milk (any variety) + more if needed
¼ teaspoon sea salt
¼ cup ground almonds or almond flour
2-4 Tablespoons agave nectar or honey
1-2 teaspoons fresh orange zest
1 teaspoon cinnamon
1 teaspoon vanilla extract
½ teaspoon ground cardamom
½ cup sliced almonds
Fresh fruit for garnish
Instructions
Drain and rinse brown rice. Add to a saucepan with almond milk, coconut milk and salt. Bring to a boil, cover, reduce heat and simmer for one hour.
Stir in remaining ingredients (except sliced almond and fresh fruit) and let simmer half hour more, adding more coconut milk if rice is dry. Remove from heat.
Rice Pudding can be served warm or cold. Before serving, garnish with sliced almonds and fresh chopped fruit. Enjoy!