Berry Cherry Granola Squares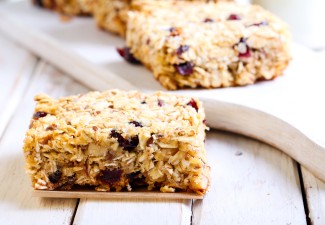 These bars are quick, easy, and wholesome. Wrap a few and take them everywhere. Coconut oil solidifies easily so be sure to let it sit on the counter to melt. You can also place under or in hot water to melt as well.
Ingredients
¼ cup honey or agave
½ cup natural almond butter
2-3 Tablespoons liquid coconut oil
1 cup whole rolled oats
½ cup dried cherries
¼ cup raisins
¼ cup dried blueberries
¼ cup finely chopped dark chocolate (optional)
Instructions
Line a 8"x8" pan with parchment paper.
In a large mixing bowl whisk honey (or agave), almond butter, and coconut oil. Stir until well combined.
Stir in oats, dried fruits, and chocolate. Stir just to combine.
Pour mixture into prepared 8"x8" pan. Cover with plastic wrap and press into pan evenly.
Chill in the refrigerator for at least 2 hours. Cut into 16 squares. Wrap squares in plastic wrap or foil and store in an airtight container in the refrigerator. Enjoy!