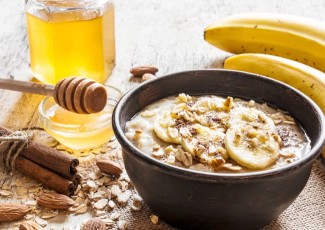 This low sugar oatmeal is a delicious and filling breakfast option.
Ingredients
2 cups rolled oats
2 cups non-dairy milk
¼ cup coconut sugar
1 teaspoon cinnamon
½ teaspoon cardamom
¼ teaspoon nutmeg
2 apple bananas, sliced
¼ cup cane sugar
Optional add ins:
½ cup coconut milk yogurt
¼ cup almond butter
¼ cup chia seeds
¼ cup hemp seeds
Instructions
In a saucepan over medium heat, toast rolled oats until golden brown and fragrant.
Once oats are toasted add non-dairy milk and allow to cook down, stirring often.
Once oats have absorbed the milk, add coconut sugar, cinnamon, cardamom, and nutmeg. Turn heat down to low and allow to simmer.
While oats are simmering, peel and slice bananas into ½ inch thick rounds. Place banana rounds side by side on a lined baking sheet.
Sprinkle bananas with cane sugar. Set oven to broil and allow bananas to cook, watching closely so they do not burn.
Bananas will be done once sugar has bubbled and caramelized on top.
Add bananas to oatmeal along with additional add ins. Serve warm and enjoy!