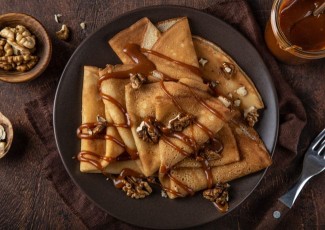 Traditional French crepes are made with buckwheat flour, making them naturally gluten-free!
Ingredients
2 Tablespoons flaxmeal
1 ½ cup coconut milk
1 cup buckwheat flour
¾ teaspoon salt
Instructions
Combine flaxmeal and coconut milk and let stand until thickened, about 10 – 15 minutes.
Combine all ingredients in a blender and blend until smooth. The mixture should resemble the consistency of coconut milk.
Heat a large nonstick skillet over medium heat. If not using a nonstick skillet, lightly coat with oil to prevent sticking.
Pour about ½ - ⅓ cup batter into the skillet. Cook until batter begins to bubble, then flip and cook an additional 2-3 minutes.
Serve crepes warm with sauce and fillings of your choice!