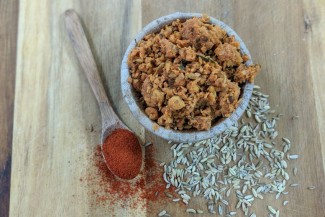 This hearty and flavorful "sausage" can liven up breakfast, lunch, or dinner!
Ingredients
1 25 ounce can chickpeas
2-3 cloves garlic, minced
2 Tablespoons paprika
1 Tablespoon fennel
2 teaspoons parsley
2 teaspoons oregano
2 teaspoons basil
1 teaspoon thyme
1 teaspoon salt
1 teaspoon pepper
¼ – ½ cayenne
2 Tablespoons red wine vinegar
Instructions
Drain and rinse chickpeas. Pulse in a food processor until broken down.
Transfer chickpeas to a bowl. Add garlic, paprika, fennel, parsley, oregano, basil, thyme, salt, pepper, and cayenne. Mix until well combined.
Mix in red wine vinegar.
To make chickpea sausage patties: measure ¼ cup sausage mixture. Form into a patty and sauté until browned on both sides.
To make chickpea sausage crumble: crumble mixture into a skillet. Sauté until starting to brown.
Serve patties in a bun with vegan cheese to make a breakfast sandwich, or serve crumble on top of pasta. Enjoy!