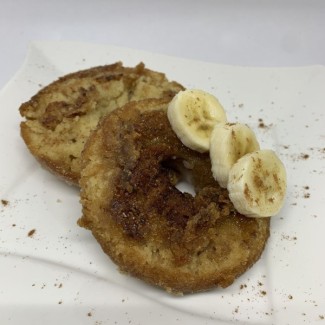 You know those times when your eyes are bigger than your stomach? Yep, we've been there. Our deli makes the most scrumptious vegan donuts and we often get more than we have room. Use some leftover donuts or buy extra just to make this luxurious brunch recipe.
Ingredients
2-4 day old donuts (preferably Down to Earth vegan donuts)
1 cup boxed coconut milk (not from the can), oat milk, or other plant based milk (the thicker the better)
1 Tablespoon flaxseed meal (ground flaxseed) or chia seeds
1 teaspoon vanilla extract
1 teaspoon cinnamon
Pinch of salt
1 Tablespoon neutral high heat oil like coconut, grapeseed, safflower, or vegetable oil
Optional Toppings: Maple syrup, coconut syrup; Fresh Fruit of choice: sliced bananas, sliced berries; Chocolate chips, sliced nuts, whipped cream
To make a Monte Cristo Sandwich:
2 slices of donut french toast
1-2 slices of vegan ham
1-2 slices of vegan cheese
Instructions
Carefully slice donuts into halves.
In a large bowl, whisk together milk, flaxseed, vanilla, cinnamon, and salt. Set aside for about 5 minutes to thicken.
Heat coconut oil on a griddle or large non-stick pan over medium-low heat.
One side at a time, dip sliced donuts into the batter, making sure it's completely covered with a thin film of the milk mixture.
Add slices to the griddle/pan and cook for 4-5 minutes on each side, or until golden-brown.
Serve up your favorite French toast donuts with your favorite toppings. Serve and enjoy!
To make a Monte Cristo sandwich:
Layer vegan ham and cheese slices onto donut french toast
Broil for 3-5 minutes to melt the cheese
Top with another slice of donut french toast
Enjoy warm!