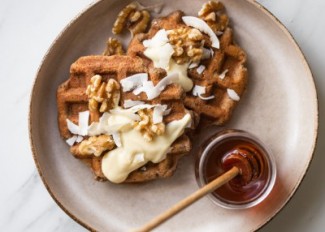 If you're a fan of mochi these waffles are a must! Chewy mochi center, crispy golden brown exterior, and naturally gluten-free, these mochi waffles are the best!
Ingredients
Dry ingredients
1¾ cup sweet rice flour
⅓ cup date sugar
¼ teaspoon sea salt
Wet ingredients
1 cup coconut milk + 1 Tablespoon lemon juice
1 flax egg
¼ teaspoon vanilla extract
2 tablespoons melted coconut oil
Flavor options
For carob waffles, add 2 Tablespoons carob powder to dry ingredients
For carob chip waffles, add a big handful of carob chips to dry ingredients
Instructions
Preheat waffle iron until heated. 
Whisk together dry ingredients.
Mix together the coconut milk and lemon juice to make vegan buttermilk.
In a separate mixing bowl mix the buttermilk into remaining wet ingredients.
Slowly incorporate wet ingredients into dry ingredients. The mixture should be smooth and batter-like.
Place enough batter to fill the waffle iron and cook for about 5 minutes (depending on your iron temperature) until golden brown.
Repeat until all batter is used up.
Serve immediately with vegan yogurt, fresh fruit, or another yummy topping!