Overnight Oats w/ Vanilla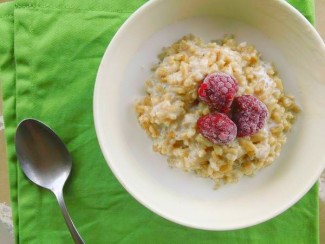 Many of us are too busy to whip up a nutritious breakfast early in the morning and rely on unhealthy convenience food or even skipping it altogether. This amazing recipe is super versatile and couldn't be easier – simply combine milk and oats in a container, refrigerate overnight and you'll have breakfast ready to go the next day!
Ingredients
Overnight Oats
2 cups old fashion rolled oats
2 cups milk or non-dairy milk
1 teaspoon vanilla extract
Honey or agave (optional)
Diced fresh fruit such as apples or pears (optional)
Optional Add-Ins
Combine 2-3 of the following or any other ingredients you might enjoy:
Pinch of cinnamon, nutmeg, pumpkin spice
2 Tablespoons nut butter
1 mashed banana
¼ cup dried fruit of choice
½ cup applesauce
1 Tablespoon chopped dark chocolate or cocoa powder
1 Tablespoon chia seeds or ground flax seeds
2-3 Tablespoons nuts or seeds of choice
1 teaspoon lemon or lime zest
1 Tablespoon lemon or lime juice
Instructions
Mix oats, milk, vanilla extract and your choice of add-ins in a bowl. Stir until combined. Cover and refrigerate overnight (at least 6-8 hours). You can also divide mixture into jars or smaller separate containers for easy organization.
When ready to eat, top oats with a drizzle of honey, ground nuts and/or fresh fruit if you like. Serve and enjoy!