Plant-Based Buttermilk Pancakes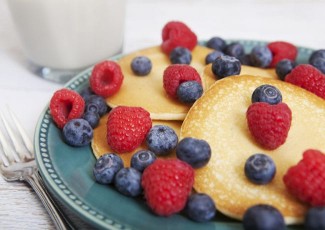 These pancakes were made for a lazy Sunday morning. Just add your favorite book and a cup of coffee for the perfect brunch vibes! Recipe can be made gluten free by using 1-to-1 all-purpose gluten free flour mix.
Ingredients
Pancakes
2 cups flour of choice 

For a Gluten-Free option, use a 1:1 All-Purpose Gluten Free Flour Mix like Bob's Red Mill

1/2 teaspoon baking soda
1 teaspoon baking powder
3 teaspoons coconut sugar
Pinch of sea salt
2 tablespoons plant-based butter
1/4 cup applesauce
Maple syrup
Optional: Fruit for garnish
Buttermilk
2 cups plant milk
1-2 teaspoons apple cider vinegar
Instructions
Mix dry ingredients in a bowl (flour, baking soda, baking powder, coconut sugar, salt) and set aside.
Mix apple cider vinegar with plant milk. Set aside to curdle.
Warm up butter and applesauce in a pan over low heat, or in a microwave. Set aside.
Gently fold wet ingredients into dry ingredients. Do not over mix! If the mixture is too thick, add more plant milk to thin it out.
Lightly grease a pan and heat to medium. Scoop pancake batter and place onto with a measuring cup for consistency. Pancakes will be ready to flip once bubbles form and pop on the surface. Cook until golden brown and serve in a stack covered in maple syrup!