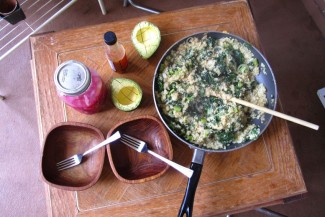 There are plenty of variations on this delicious savory breakfast or warm salad - you can swap out the buckwheat for any of the other 'psuedo grains' - quinoa, millet and amaranth; the kale can be replaced with any other greens or herbs; also it can be made spicy with chili, tangy with lemon juice and more salty with tamari.
Ingredients
1 cup of buckwheat
2 cups water
1 Tablespoon coconut oil
1 onion - diced
1 clove garlic – diced (optional)
1 jalapeno (optional)
1 bunch kale roughly chopped
Salt and pepper to taste
1 Tablespoon tamari (optional)
1 Tablespoon lemon juice (optional)
Instructions
Dry roast the buckwheat in a skillet until it is lightly toasted.
Cover with water and bring to a rolling boil for five minutes. Turn it off, cover and let it sit for twenty minutes. The buckwheat will absorb the rest of the liquid and finishing cooking as it rests.
In a separate pan, fry the onion in coconut oil.
Once it is browning add the garlic and chili.
Add the kale and fry until browned.
Stir in the cooked buckwheat.
Add pepper and salt to taste. Also, add tamari or lemon juice if desired.
Serve! Hot sauce, kraut or avocado are delicious accompaniments. Enjoy!