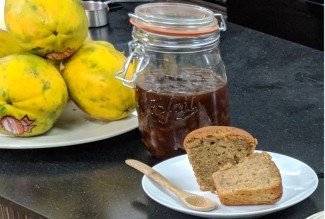 This sweet jam is perfect for Summer. Papayas are high in natural pectin, and therefore need no additives.
Ingredients
2 pounds papayas, peeled, cored, and pureed
1 pound mango peeled and diced
2 cups raw cane sugar
Juice of 1 lemon
Vanilla paste extracted from 2 pods
1 teaspoon vanilla
Instructions
Combine pureed papaya, mango, sugar, lemon, vanilla paste, and vanilla extract into saucepan
Bring to a boil over med-high heat, stirring often.
Reduce heat and simmer, still stirring, until puree thickens and holds its shape on a spoon
Let cool and store in mason jar for up to 1 week.