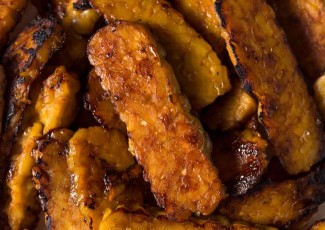 This easy tempeh recipe is great for brunches- but make extra for quick lunches throughout the week! This recipe is from the cookbook, Vegan with a Vengeance.
Ingredients
½ cup apple juice
1-2 Tablespoons soy sauce
1 teaspoon tomato paste
¼ teaspoon liquid smoke
1 (8-ounce) package tempeh, sliced thinly
2 Tablespoons peanut oil
Instructions
In a small bowl whisk together apple juice, soy sauce, tomato paste, and liquid smoke. Set aside.
Layer tempeh into a baking dish and pour marinade on top. Let marinate for one hour, up to overnight.
In a large skillet, heat oil over medium-high heat. Add tempeh and cook a few minutes on each side, until browned. Flip tempeh, and add remaining marinade. Cover and cook five minutes more, or until marinade cooks down. Remove from heat and let cool. Enjoy!