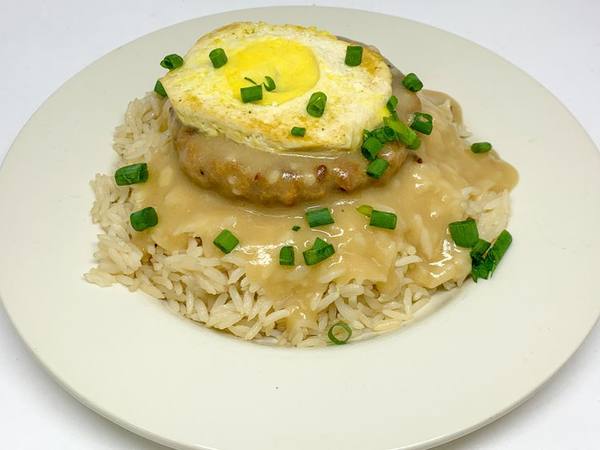 A flavorful burger patty on top of fluffy rice, vegan eggs and of course, GRAVY ALL OVER! This indulgent dish proves that you can still enjoy your favorite local comfort foods without sacrificing the taste.
Ingredients
Loco Moco
1 vegan burger patty of choice (We love Beyond Burger!)
1 bowl of rice of choice
1 packet of vegan brown gravy mix
Scrambled Eggs
Instructions
Melt butter in a pan over medium heat. Sautee green onions and garlic until fragrant, then stir in turmeric.
Blend silken tofu until very smooth and add to pan. Stir to combine.
Crumble super firm tofu into the pan by hand. Aim for the pieces of tofu to be about the size of your thumb. Fold into mixture carefully to preserve the firm tofu chunks.
Add salt, pepper and nutritional yeast to the scrambled eggs and set aside
In a separate pan, cook your burger patty. Make sure it's seasoned with salt and pepper!
Prepare your brown gravy according to packet instructions, except use beef-style vegetable stock instead of water.
To plate: Add burger patty on top a bed of rice. Pour gravy on the burger (about 2-3 tablespoons). Add scrambled eggs on top and garnish with green onions
If making the tofu fried egg:
Cut the tofu into 1/2 inch slabs, then round the corners to create an "egg" shape. Carefully cut a hole in the middle for the egg yolk to sit in.
Season tofu with salt and pepper then fry both sides over medium heat.
Add the vegan egg yolk to the hole and cook through. Flip and cook the other side.
Recipe Source
Scrambled egg recipe adapted from Bosh.TV