Cabbage and Leek Casserole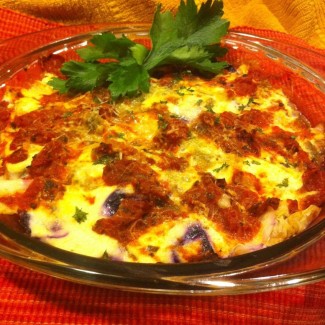 This extremely tasty dish makes a great gluten-free lasagna substitute.

Ingredients
12 large green or savoy cabbage leaves
3 teaspoons olive oil, divided
3 small leeks, halved, white and light green parts cut into ½" thick pieces (about 1 cup)
½ cup imitation chicken broth
3 thin lemon slices
2 cloves garlic, minced
1 (15-ounce) can chopped tomatoes (we recommend fire roasted)
3 Tablespoons chopped fresh parsley
1 cup ricotta cheese
Instructions
Blanch cabbage leaves in a large pot of boiling water for 5 minutes or until just softened. Drain, pat dry and set aside.
Preheat oven to 350°. Lightly grease an 8" square baking dish with a dab of oil.
Heat ½ teaspoon oil in a skillet over medium high heat. Add leeks and broth. Place lemon slices on top and bring to a simmer. Cover, reduce heat to low and simmer 25 minutes. Add a little more liquid if mixture starts to get dry. Drain in a colander, remove lemon, pat leeks dry and set aside.
Heat remaining oil in skillet over medium heat. Add garlic and tomatoes and cook 10 minutes or until thickened into a sauce. Stir in parsley and season with salt and pepper.
Place 3-4 cabbage leaves in the bottom of prepared baking dish. Spread ¼ cup tomato sauce over leaves, top with ⅓ of leeks and dot with ⅓ of ricotta. Repeat layers 2 more times. Bake 25-30 minutes or until top begins to brown. Cool 5 minutes before serving. Enjoy!