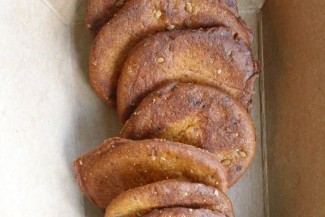 These simple vegan crackers have a rich flavor from the nutritional yeast and mixture of spices. Enjoy with all your favorite dips and spreads!
Ingredients
1 cup whole wheat flour
1 cup unbleached white flour
1 cup nutritional yeast
2 teaspoons baking powder
2 teaspoons ground black pepper
1 teaspoon smoked paprika
1 teaspoon garlic powder
¾ teaspoon salt
¼ cup safflower oil + 3 Tablespoons
¼ cup diced sundried tomatoes
½ jalapeño pepper, deseeded and minced
1 cup unsweetened non-dairy milk
Gomasio or sesame seeds, for garnish
Instructions
Mix together flours, nutritional yeast, baking powder, black pepper, paprika, garlic powder and salt in a large bowl.
Cut in ¼ cup safflower oil, using 2 knives or a pastry cutter until mixture is crumbly.
Combine tomatoes and jalapenos with almond milk and slowly knead into flour mixture.
Knead dough for 15-20 minutes, adding 1 Tablespoon of remaining oil at a time.
Preheat oven to 450º and lightly grease a baking sheet with safflower oil.
Divide dough in half and shape each piece into a ball. Flatten each piece between 2 pieces of wax paper.
Using a rolling pin, roll out dough until very thin. Flip onto flat surface and remove one piece of wax paper carefully. Cut out crackers into circles or shapes using cookie cutter or jars.
Carefully lift crackers onto prepared baking sheet and sprinkle tops with Gomasio. Continue with remaining dough.
Bake for 8 minutes, flip and bake for 2 more minutes.
Let crackers cool, serve and enjoy!