Chunky Tomato Sauce over Pasta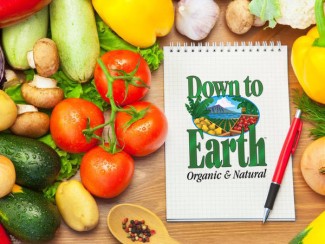 Chunky Tomato Sauce recipe from Down to Earth Organic and Natural.
Ingredients
2 cups white mushrooms, sliced
1 medium red bell pepper, chopped
3 cloves garlic
1 large leek, white part only, chopped
2 Tablespoons olive oil
Salt and pepper, to taste
2 Tablespoons dried oregano
2 teaspoons dried thyme
1 teaspoon Hot n Spicy Spike seasoning
2 (15-ounce) cans diced tomatoes
1½ cups cooked chickpeas or 1 (15-ounce) can, drained
¼ cup imitation chicken broth
2 Tablespoons aged balsamic vinegar
8 cups baby spinach leaves
8 ounces of your favorite pasta
Fresh basil leaves, thinly sliced (optional)
Instructions
Place mushrooms, bell pepper, garlic and leek in a food processor. Pulse until ingredients are coarsely chopped.
Heat a large sauce pan to medium-high heat. Add oil and mushroom mixture. Season with salt and pepper. Cook until vegetables are soft and most of the moisture has evaporated.
Stir in oregano, thyme and Spike.
Slowly add tomatoes, chickpeas, broth and balsamic vinegar.
Cover and simmer 20 minutes, stirring occasionally.
Add spinach and cook until slightly wilted.
Meanwhile cook your favorite pasta as directed on the package.
Serve pasta topped with sauce. Garnish with fresh basil. Enjoy!