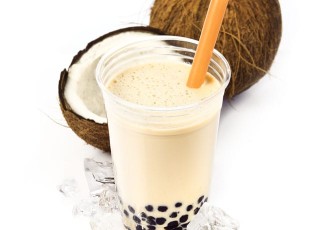 A thriving and immensely popular trend transported from Taiwan. Its popularity is due to its unique wonderful flavor and interesting texture from the tapioca pearls. This recipes is adapted from Vegetarian Times.
Ingredients
3½ cups water
½ cup large tapioca pearls
2 Tablespoons brown sugar
1 cup crushed ice
2 cup chilled black or green tea
½ - 1 cup milk or non-dairy milk
1 (14-ounce) can coconut milk
Honey, to taste
½ cup fruit juice (optional)
Instructions
Heat water in a large saucepan to a boil. Add pearls and allow to boil for 30-45 minutes or until pearls turn translucent. Remove from heat and let pearls sit in the saucepan for another 30 minutes.
Drain and rinse in warm water. Transfer to a mixing bowl. Add brown sugar and toss to coat the pearls.
Combine remaining ingredients in either a bar shaker, large glass jar or a bowl. Shake or whisk ingredients until well combined.
Divide tapioca pearls equally into 2 glasses. Pour liquid mixture over pearls. Serve with large straws and enjoy!