Creamy Mushroom & "Sausage" Pasta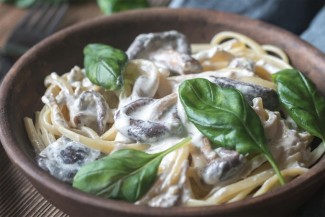 This hearty dish is great for a hungry, hungry family that wants something fast and comforting. Using simple pantry staples, you can whip this meal up in a snap. Swap out veggies for those you have on hand. Yes, there's a recipe but it's built to be a casual dish that you can eye-ball most of it.
Ingredients
1 (8-ounce) package dried pasta of choice
1/2 - 1 white or yellow onion, sliced roughly
2-3 cups mushrooms (any variety), sliced roughly
2-4 veggie sausage links, sliced 
1 (16-ounce) can Cream of Mushroom
1 cup of milk or non-dairy milk of choice
3-4 cups of dark greens of choice like spinach, chopped kale, chopped dandelion greens
Instructions
Cook pasta according to package directions
Saute onions and mushrooms in a large saute pan until softened - about 2-5 minutes.
Stir in veggie sausage links and cook for a few minutes - you can cook until they're slightly crispy or very crispy - about 3-7 minutes. 
Pour in cream of mushroom and stir to combine. 
Pour milk into mixture. We like to pour the milk into the empty cream of mushroom can and swish around to get as much of the mixture. 
Let cook for 2-3 minutes to incorporate. 
Add in greens and stir to combine for 1-2 minutes. You don't need to cook long as the greens will naturally wilt. 
Turn off the heat and add pasta. Toss to combine. 
Serve and enjoy!