Peanut Butter Popcorn Cake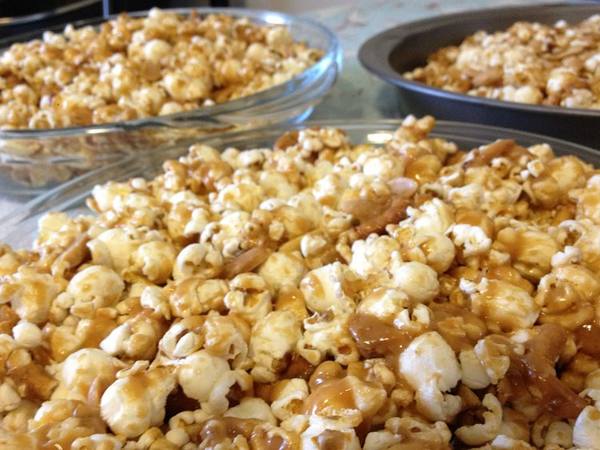 Perfect for your Halloween party, this decadent treat comes from amazing blog, The Tolerant Vegan.
Ingredients
Cake
8 cups or 1 (15-ounce) bag popped popcorn
1 cup salted peanuts
1 cup roughly chopped pretzel pieces
3/4 cup turbinado sugar
3/4 cup agave
3/4 cup peanut butter
1 teaspoon vanilla extract
Frosting
1/2 cup softened vegan butter
2/3 cup cocoa powder
2 cups powdered sugar
1/3 cup vanilla coconut milk
2 teaspoons vanilla extract
Instructions
To prepare Cake: Combine popcorn, peanuts, and pretzels in a large bowl.
Combine sugar and agave in a small saucepan and bring to a boil. Remove from heat immediately and stir in peanut butter and vanilla extract.
Pour sugar mixture over popcorn mixture. Stir and toss until all of popcorn is covered.
Divide popcorn into two 9" round nonstick cake pans and carefully press into pans. Allow popcorn to cool completely before removing from pans.
While popcorn cools down, prepare Frosting. Combine all Frosting ingredients in a large bowl. Using an electric mixer on medium speed, beat Frosting until completely combined.
Remove cakes from pans. Frost the top of one cake with half of the Frosting evenly with a rubber spatula. Place the second cake on top. Spread remaining Frosting on top of second cake. Slice as a normal cake. Serve and enjoy!