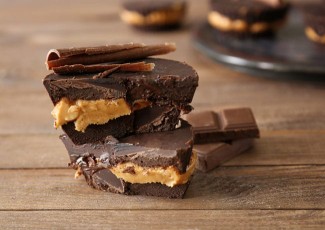 These almond butter cups are beyond easy to make – only 3 ingredients!
Ingredients
1 cup coconut oil + 1 Tablespoon for greasing pan
4 cups chocolate chips
1 ½ cup almond butter
Instructions
Lightly grease a 12-cup muffin tin with coconut oil.
Melt coconut oil and chocolate chips.
Place 2 Tablespoons of the melted chocolate mixture in each muffin tin. Rotate the pan to coat the edges of each tin with chocolate.
Place in the freezer for about 5 minutes, until slightly hardened.
Remove from freezer. Place 1 Tablespoon almond butter in each of the tins.
Pour enough chocolate into each tin to cover almond butter completely. Melt additional chocolate and coconut oil if needed.
Return to freezer for at least 30 minutes, up to overnight.
Once almond butter cups have set, remove from freezer and store in refrigerator up to 2 weeks. Enjoy!