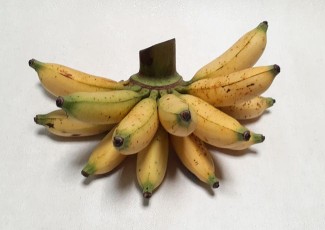 These banana date rolls are made with only a few ingredients and make an indulgent but guilt-free treat!
Ingredients
8 spotty bananas
1 vanilla bean
Date paste
24 Medjool dates, pitted
1 cup water
Pinch of unrefined sea salt
Instructions
Preheat oven to 250°F.
Slice the bananas lengthwise into a few strips each.
Lay out the slices on baking trays lined with parchment paper. Do not overlap.
Bake for 1 hour at 250°F.
Remove from oven and let cool for 15 mins.
Flip each slice over gently so the moist side is facing upwards.
Blend all date paste ingredients together.
Spread date paste on each banana slice. Grate vanilla onto each slice. Roll.
Repeat with remaining slices.
Arrange all rolls on a parchment-lined tray.
Return to the oven and bake for 2 hours at 250°F.
Remove from the oven. Allow to cool. Serve immediately or set in the fridge to firm up.