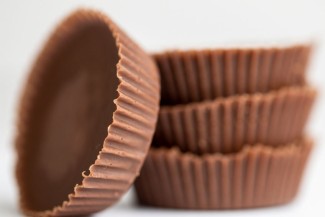 Make these rich and creamy Carob Nut Butter Cups using just 5 simple ingredients!
Ingredients
2 cups carob chips, divided in half
2 Tablespoons coconut oil, divided in half
1/2 teaspoon salt, divided in half
1/2 cup nut butter
1/4 cup pure maple syrup
Instructions
Line a muffin pan with 12 cupcake liners and set it aside.
Melt 1 cup of carob chips with 1 tablespoon of coconut oil and 1/4 teaspoon salt over a double boiler (arrange a bowl over your saucepan that's been filled with an inch of water).
Once the carob is melted, scoop 1 tablespoon and place into the bottom of each cupcake liner, spread it around, then place the pan in the freezer for 10 minutes.
While the carob hardens in the freezer, prepare the nut butter filling. Stir together the nut butter and maple syrup in a bowl until the mixture is thick. Taste for sweetness and add more syrup if desired.
Remove the pan from the freezer. The carob should be quite firm. Press 1/2 a tablespoon of the nut butter mixture on top of the carob in each cupcake liner.
Melt the other cup of carob chips, coconut oil and salt as you did before. Scoop 1 tablespoon and spread on top of the nut butter with a small spoon. Place in the freezer for another 10 minutes to set. 
Enjoy! You can store the carob nut butter cups for a month or more in the freezer.