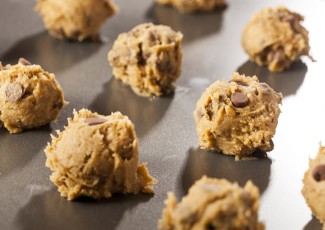 Satisfy your cookie dough craving without over indulging!
Ingredients
½ cup pitted medjool dates, soaked for 15 minutes
¼ cup oats
1 15-ounce can chickpeas, drained and rinsed
1 teaspoon vanilla
1 ½ Tablespoon maple syrup
1 cup dark chocolate, chopped
Instructions
Place pitted dates in a bowl and cover with warm water. Soak for 15 minutes, then drain.
In a food processor, blend oats into a fine flour.
Add dates, chickpeas, vanilla, and maple syrup to food processor and blend until smooth.
Transfer to a bowl and add chopped dark chocolate.
Store in refrigerator for up to one week. Serve chilled and enjoy!