Chocolate Peanut Butter Tofu Pie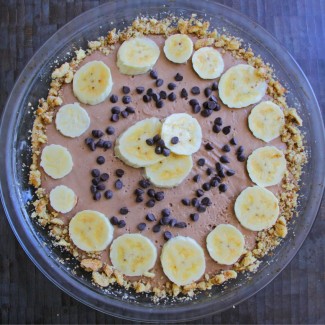 Tofu in a pie?! It may not sound too appetizing but there has been a long and delicious history of utilizing tofu in desserts. If you have a nut allergy, use sunflower seed butter instead of peanut butter.
Ingredients
Crust
10-20 cookies of choice
½ cup liquid coconut oil or melted butter/vegan butter
Filling
1 (12-ounce) box silken firm tofu, drained
1 cup peanut butter, almond butter, or sunflower seed butter
½ cup cocoa powder or cacao powder
¼ - ½ cup turbinado, sucanat or brown sugar or 1 teaspoon stevia
½ cup - 1 cup milk or non-dairy milk
Suggested Toppings:
Melted chocolate, pretzel pieces, sliced bananas, ground nuts
Instructions
To prepare Crust: Grind cookies in a food processor until a fine, crumbly texture is achieved. You need about 1½-2 cups worth of cookie crumbs. Add in coconut oil and blend until mixture is sticky and easily shaped.
Grease a pie plate with coconut oil or melted butter. Press Crust mixture into pie plate as evenly as possible.
Freeze Crust while you prepare the Filling.
To prepare Filling: Add tofu, peanut butter, cocoa powder and sugar in a food processor. Blend until creamy and thick – scraping the sides occasionally.
Add milk in through the pour spout of food processor while blending until a creamy pudding or mousse consistency is reached.
Pour Filling evenly in Crust. Cover with plastic wrap and freeze for at least 2 hours. Pie can be kept for up to a week in the freezer.
When ready to eat, allow pie to thaw for 5-10 minutes. Serve pie as is or add additional toppings if desired. Enjoy!