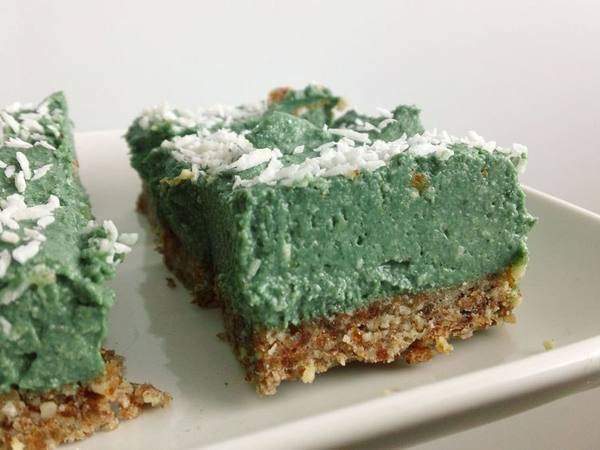 Coconut Spirulina Pie
Creamy coconut yogurt is the basis for this vibrant, nutrient-dense dessert.
Updated: Mon, 05/13/2019 - 8:51pm
Ingredients
Crust:
2 cups nuts (almonds, pecans or combination)
Pinch salt
½ cup Medjool dates, pitted and chopped (about 10)
1-2 Tablespoons coconut oil
Coconut Crème Filling:
1 cup raw cashews, soaked one hour and drained
Half an avocado
1 cup chopped banana
1 (16 ounce) container vanilla or plain coconut milk yogurt
2 teaspoons vanilla extract or vanilla bean powder
¼ cup coconut flour
2-4 teaspoons spirulina powder, or other greens powder
Shredded coconut for garnish
Instructions
Line an 8x8 baking dish with parchment paper. Set aside.
Grind nuts and salt in food processor until very fine. Add dates and coconut oil and blend until mixture is smooth and tacky. Press crust firmly onto bottom of pan evenly. Move to freezer to set.
To make the Coconut Crème Filling: Blend cashews in processor until smooth. Add avocado, banana, coconut yogurt and vanilla, then blend until totally smooth and thick. Add coconut flour and greens powder and blend again, adding as much greens powder as you like. Scrape sides and bottom to totally mix greens powder.
Pour Coconut Crème Filling into crust and smooth top. Sprinkle with extra shredded coconut. Set in freezer for a few hours to firm completely, then slice into squares. Store in freezer, and move to refrigerator for half hour before serving. Enjoy the green goodness!