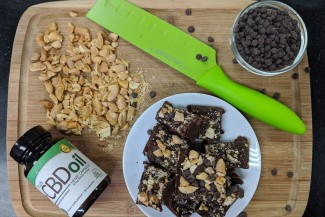 The holidays can be stressful. This CBD fudge might be able to help! It's chocolatey, peanut butter-y, and the addition of CBD can help relieve anxiety.
Ingredients
¼ cup coconut cream
3 cups chocolate chips
½ cup peanut butter
1 Tablespoon vegan butter
1 teaspoon vanilla extract
30 drops or powder from 2-3 capsules CBD
¼ cup chopped peanuts
¼ cup mini chocolate chips
Instructions
Bring a pot of water to a rolling boil.
Add coconut cream, chocolate chips, peanut butter, vegan butter, and vanilla extract in a glass bowl.
Place the glass bowl on top of pot with boiling water, turning heat to medium. Stir ingredients until melted.
Remove glass bowl from heat and add CBD, whisking to make sure everything is well combined.
Grease an 8x8 pan with coconut oil and pour melted chocolate mixture into pan. Top with chopped peanuts and mini chocolate chips.
Cover and refrigerate overnight to set. Serve chilled and enjoy!