Pumpkin Cheesecake Tart (Diabetic Friendly!)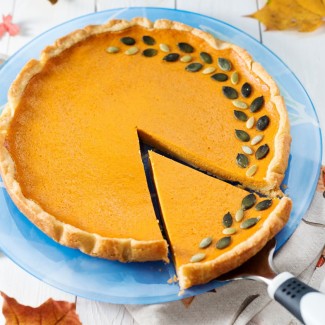 This tart will have your family smiling, but they will never guess that it is plant-based and diabetic friendly! Make this recipe gluten free by using a 1-to-1 GF flour.
Yield
1 tart pan or 8-10 cupcake-sized tarts
Ingredients
Crust
1 flax egg (1 tablespoon ground flaxseeds + 3 tablespoons plant-based milk)
4-6 tablespoons plant-based milk (as needed)
1 ½ cups almond flour
3/4 cup all purpose flour
½ teaspoon ground cinnamon
¼ teaspoon sea salt
Filling
1 cup raw cashews (soaked overnight)
1 can of pumpkin puree
½ cup maple syrup
1 cup non-dairy milk
¼ cup arrowroot starch
1 teaspoon vanilla
1 teaspoon cinnamon
1 tablespoon pumpkin pie spice
¼ teaspoon sea salt
Instructions
Make the crust:

Make the flax egg by combining ground flaxseed and milk. Set aside to thicken for 5 minutes.
Combine almond flour, gluten-free floud and salt in a large bowl. Stir in thickened flax egg, and milk. The dough should hold it's shape when you squeeze it in your hand. Add more milk slowly until reaching desired consistency.
Gently press the dough into your pie pan. The crust should be thin and cover the sides as well as the bottom. Poke holes with a fork on the bottom of the crust.
Pre-bake the crust at 350º F for 10 minutes.

Make the filling:

Blend the soaked cashews in a food processor until smooth.
Add the rest of the ingredients for the filling and blend again until smooth.

Pour the filling into the crust and bake at 350ºF for 40-50 minutes or until the filling is set and has light browning on the top.

Note: If making cupcake-sized tarts, check them after 20 minutes as they may take less time to bake.

Garnish with some roasted pumpkin seeds and serve!