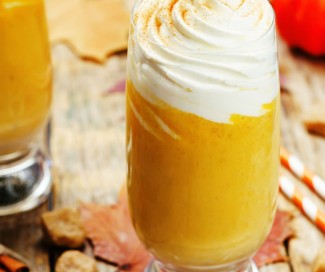 These creamy, no-bake, vegan Pumpkin Pie Jars are a failproof healthy dessert option for the holiday season!
Ingredients
1 can pumpkin
1/2 cup coconut cream
3 Tablespoons maple syrup
1/4 teaspoon ground ginger
1/4 teaspoon nutmeg
chopped nuts or crumbled cookies
coconut whipped cream
Instructions
In a blender, combine the pumpkin, maple syrup, coconut cream, nutmeg and ground ginger. Blend until smooth. Scoop into a container and refrigerate for several hours, until it is the consistency of thick pudding.
To assemble, add some of the chilled pumpkin mixture to the bottom of your serving jars, then add a layer of nuts or cookies, then a layer of coconut whipped cream, then pumpkin, nuts/cookies, and top with coconut whipped cream.Sprinkle ground ginger or nutmeg on top, if desired.
Eat immediately, or chill for a couple of hours before serving.