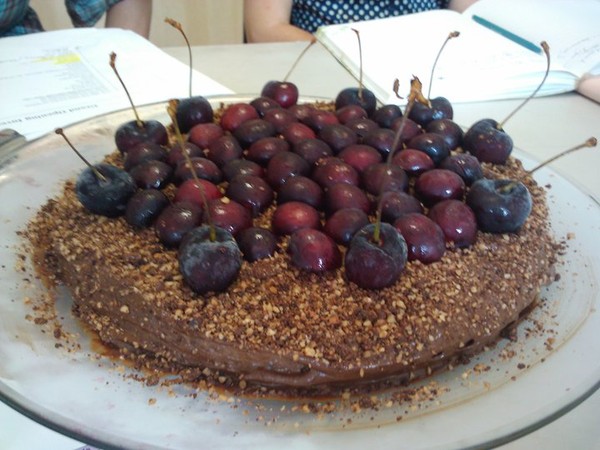 Raw Black Forest Cake
Raw Black Forest Cake recipe from Down to Earth Organic and Natural.
Updated: Mon, 09/24/2018 - 4:07pm
How to Make Black Forest Cake Video Transcript
Ingredients
Cake
2½ cups raw almonds
2 cups raw cashews, soaked 1-4 hours
1 cup macadamia nuts, soaked 1-4 hours
1 lemon, juiced
⅓ cup raw cacao powder
2 Tablespoons chia seeds
¾ cup raw agave nectar
¾ cup fresh cherries, pitted
1 cup raw coconut oil
1 teaspoon vanilla extract* or ½ teaspoon raw vanilla powder(optional)
1 teaspoon almond extract* (optional)
Chocolate Frosting
1 avocado
⅓ cup dates, pitted
1 Tablespoon vanilla extract* or 1½ teaspoons raw vanilla powder (optional)
½ cup raw agave nectar
½ cup raw coconut butter
½ cup raw cacao powder
Pinch sea salt
Topping
¼ cup raw cacao powder
3 dates, pitted, soaked 1-2 hours and finely diced
½ cup grated raw chocolate
Fresh cherries, to garnish
*Not considered a raw product
Instructions
Prepare Cake: Place almonds in a food processor and pulse into a fine powder. Sprinkle a small amount in the spring form pan.
Divide almond meal. Set aside one half for later use. Combine remaining almond meal with remaining Cake ingredients in a food processor. Process until smooth and creamy. Pour evenly into spring form pan. Place cake in freezer until solid – overnight is recommended.
About an hour before serving, remove Cake from freezer and let sit at room temperature.
Meanwhile, combine all Frosting ingredients in a food processor and process until smooth. Transfer to a small bowl and set aside.
Prepare Topping: Combine reserved almond meal, cacao powder, dates, and grated chocolate in a mixing bowl. Crush with your hands until crumbly.
Release cake from spring form pan and transfer to a large serving platter. Use a rubber spatula to frost cake with prepared Frosting. Sprinkle Topping all over and garnish with cherries. Enjoy!