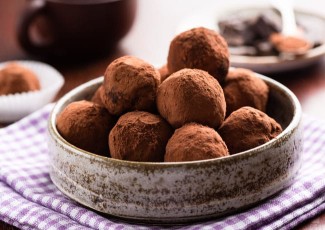 Raw cacao is the raw, unprocessed form of cocoa, known for its high nutrient content. Available in the raw food section at Down to Earth.
Yield
15-20 individual truffles
Ingredients
2 cups cashews, soaked 1-2 hours

½ cup raw cacao powder + ½ cup for rolling

½ cup raw agave nectar

¼ cup coconut oil

¼ cup cacao butter (liquefied but not cooked)

1 Tablespoon lemon juice
Instructions
Mix all ingredients together in a blender or food processor. The mixture will be thick so you might have to scrape the sides a few times with a spatula.

When everything is well blended into the consistency of a mousse, put into a bowl and place in the refrigerator. Chill until firm.

Once mixture is solidified, roll into balls, then roll balls in cacao powder.

Serve immediately or keep in refrigerator or freezer. Allow truffles to sit at room temperature for 10-15 minutes before serving. Enjoy!