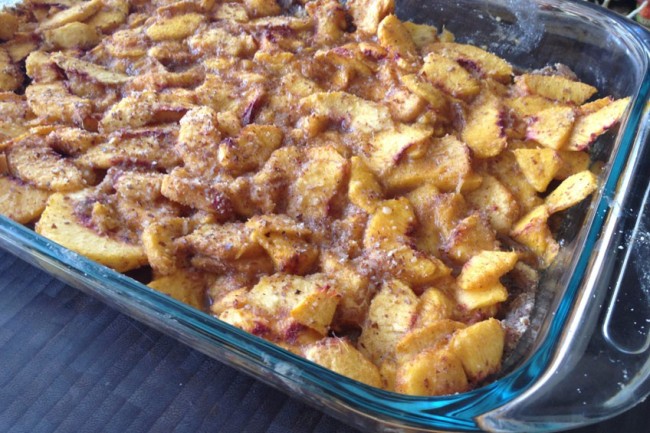 Raw Peach Cobbler recipe from Down to Earth Organic and Natural.
Ingredients
Crust
1 cup Deglet dates, soaked 20 minutes
1 cup dried apple bananas, soaked 20 minutes
2 cups almond flour
Pinch of salt
Filling
10 peaches, skinned and sliced
1 teaspoon vanilla
½ cup coconut nectar
¼ teaspoon cinnamon
Pinch of salt
Mac Nut Whip Cream
1 cup macadamia nuts
¼ cup coconut nectar
3 Tablespoons water
Instructions
Place crust ingredients into a food processor and combine until finely ground. Leave out ¼ cup of crust to sprinkle on top of filling later.
Remove crust ingredients and press into an 8"x8" baking pan.
In a separate bowl, place filling ingredients and thoroughly combine.
Place filling over crust in baking pan. Sprinkle with ¼ cup of remaining crust. Place Cobbler in dehydrator for 2 hours at 105º.
Place Mac Nut Whip Cream ingredients in a blender and blend until whipped. Add more water if needed. Serve whip cream on top of Cobbler and enjoy!