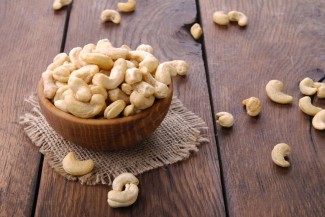 A vegan cashew ricotta makes this cake extra moist. With sweetness from figs, and a hint of orange, this cake is sure to be a hit at any holiday party.
Ingredients
Ricotta:
1 ½ cup cashews
Juice of 1 lemon
1 Tablespoon nutritional yeast
½ teaspoon salt
Cake:
3 Tablespoons flaxmeal
½ cup orange juice
1 ½ cup pastry flour, sifted
1 cup coconut sugar
1 teaspoon baking powder
1 teaspoon salt
1 teaspoon orange zest
1 teaspoon vanilla
½ cup vegan butter, melted
¼ cup almond milk
1 ½ black mission figs
Instructions
Preheat oven to 350̊.
Bring a small pot of water to a boil. Add cashews and boil for 15 minutes. Drain and rinse.
Transfer cashews to a food processor along with lemon juice, nutritional yeast, and salt. Blend until smooth and creamy.
In a small dish, whisk together flaxmeal and orange juice. Let stand until thickened, about 15 minutes.
Sift pastry flour into a medium bowl. Whisk together with coconut sugar, baking powder, salt, and orange zest.
In a separate bowl, whisk together vegan ricotta, flax egg, and vanilla. Fold wet ingredients into dry ingredients.
Once wet and dry ingredients are combined, stir in melted vegan butter, almond milk, and 1 cup of figs.
Line a spring form cake pan or a 9" cake pan with parchment paper. Lightly grease with coconut oil.
Pour cake batter into pan. Slice the remaining ½ cup of figs and garnish top of the cake.
Bake until a toothpick or fork inserted into the center comes out clean, about 1 hour. Allow cake to cool at least 30 minutes before serving. Enjoy!