Cranberry Pineapple Relish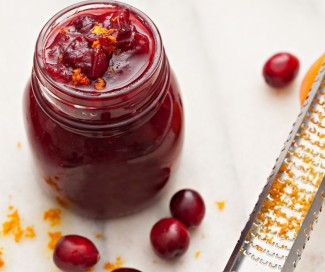 Cranberry relish is a must on the holiday table! This simple sauce is the perfect combination of sweet and tart. Recipe courtesy of Olena Heu - www.mypointofheu.com
Ingredients
1 can of jellied cranberries 
1/2 cup of dried cranberries
1 can of crushed pineapples
1 cup of walnuts, can substitute with macadamia nuts
1 orange peel
Instructions
Pour out the can of chilled crushed pineapple into a large bowl, save the liquid from the can. 
Place the dried cranberries in a pan on medium heat and reconstitute the dried cranberries with the pineapple juice. You can add water if needed. Saute until plump and soft.
Chop the nuts into halves or quarters (based on how chunky you'd like it) and place into the large bowl with the crushed pineapples. Mix.
Place chilled cranberry jelly in the large bowl. Mix.
Squeeze an orange peel atop the bowl once everything is mixed for slight flavor of orange zest.