Garlic Lentils with Walnut Cream Sauce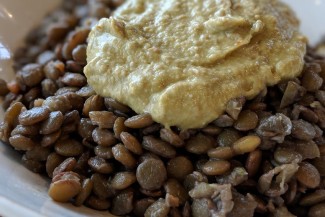 Heart healthy ingredients come together to make this dish deliciously indulgent, yet still light.
Ingredients
2 cups lentils
4-5 cloves garlic
1 Tablespoon oil
¼ teaspoon salt
3 ½ cups vegetable broth
Walnut Cream Sauce:
½ cup walnuts
1 avocado
⅓ cup nutritional yeast
¼ cup sundried tomatoes
2-3 cloves garlic
½ cup water
¼ teaspoon salt
Instructions
In a large saucepan, sauté lentils and garlic with oil until browned. Add salt and mix.
Add vegetable broth and cover. Allow lentils to simmer until all broth has been absorbed.
Bring a pot of water to a boil and add walnuts. Allow to boil for 10 minutes, then strain.
Add walnuts, avocado, nutritional yeast, sundried tomatoes, garlic, water and salt to a blender or food processor. Blend until smooth and creamy.
Mix lentils and sauce together or top a plate of lentils with sauce. Serve hot and enjoy!