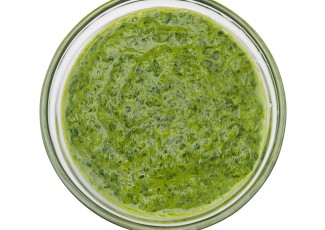 You can find gotu kola growing wild in many Hawaiian backyards. This widely used medicinal herb is said to boost mental activity as well as help with high blood pressure, rheumatism, fever, heart health, skin problems and nervous disorders. It's also delicious in pesto!


Ingredients
½ cup gotu kola leaves, washed and dried
½ cup basil leaves
¼-⅓ cup of olive oil
1 cup pumpkin seeds
3-4 cloves garlic, to taste
juice of 1-2 lemons, to taste
salt, to taste
Instructions
Combine all ingredients in a high-powered blender, holding back a little of the olive oil, garlic, lemon juice and salt. If it will not completely combine, scrape down the edges of the blender and add a little more olive oil.
Once mixed to a smooth paste, taste, and adjust to taste, for sourness, saltiness and garlic.
Blend again.
Serve, as a spread, dip or condiment. Will freeze well, and keeps in the refrigerator for two weeks. Enjoy!