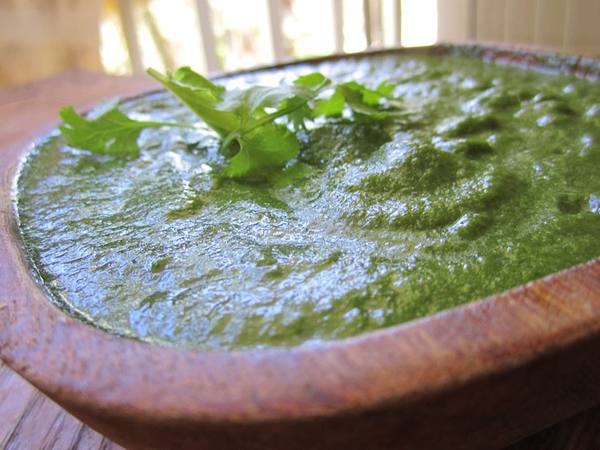 Mint-Cilantro Chutney
This fresh, clean, spicy chutney adds a burst to any curry.
Updated: Mon, 05/13/2019 - 8:51pm
Ingredients
2 cups mint leaves, stems removed
2 cups cilantro, trimmed and chopped
1 medium onion, peeled and rough chopped
1 (2" inch) piece of ginger root, peeled and rough chopped
2 cloves garlic, peeled and trimmed
2-3 green Thai, Serrano or cayenne chiles, stems removed
1 lemon, juiced
3/4 -1 teaspoon sea salt, to taste
1/4 teaspoon red chili powder or cayenne
Instructions
Combine all ingredients in a food processor of blender and process until smooth. It will look like you will need water at first, but please be patient, it will blend down perfectly in time. 1-2 Tablespoons of water can be added when blending to make an even smoother texture.
Serve. Enjoy!
Your chutney will keep in a jar in the fridge for a week.