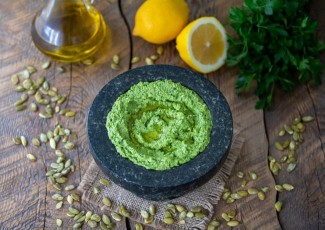 Toasted pumpkin seeds are full of nutrients, minerals and flavors. The toasty flavor lends itself nicely to this cooking staple. Use this sauce for pasta, on sandwiches, on anything! Ideal for those with nut allergies.
Ingredients
¼ cup toasted pumpkin seeds
2 cups fresh basil leaves
1-2 garlic cloves
Salt and pepper, to taste
⅔ cup nutritional yeast
½ cup olive oil + more if needed
Instructions
Combine all ingredients, except for olive oil, in a food processor. Pulse until pumpkin seeds are broken up.
While processor is running, add olive oil. You may need to stop a couple of times to scrape down the sides of the processor. Add more oil if necessary. Pesto should be a little on the chunky side. Serve immediately or refrigerate for up to a week. Enjoy!