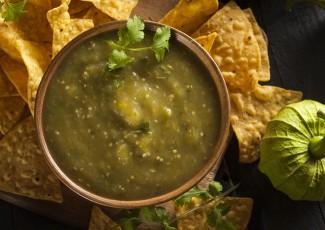 This delicious recipe comes from a little corner store way down in the very southernmost part of Texas.
Ingredients
4 tomatillos
4 jalapenos or other chilis, to taste
¼ cup olive oil
½ -1 cup water, enough to cover
1 bunch cilantro
Salt, to taste
Instructions
Peel the papery skin from tomatillos and wash well.
Add the tomatillos, jalapenos, olive oil and water to a pot and boil for 10 minutes. Add enough water to cover the tomatillos.
Cover and cool. Once cool, refrigerate until cold.
Blend the cold mixture with the cilantro, and salt to taste.
Serve. Enjoy!