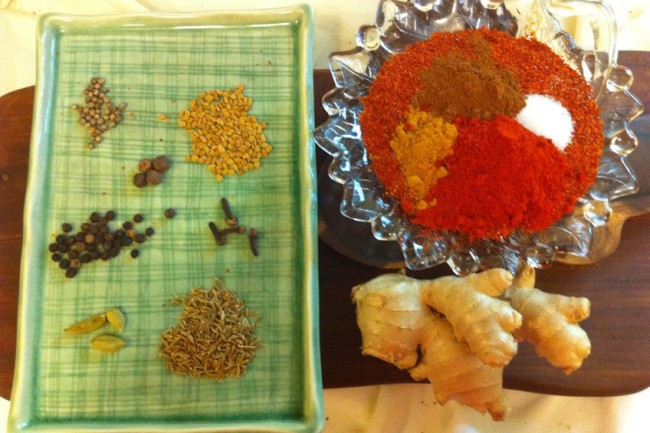 This exotic spice mixture is an essential part of Ethiopian cooking. You can also puree half of the mixture to achieve a different taste and texture.
Ingredients
2 teaspoons cumin seeds
4 whole cloves
¾ teaspoon cardamom seeds
½ teaspoon whole black peppercorns
¼ teaspoon whole allspice
1 teaspoon fenugreek seeds
½ teaspoon coriander seeds
8-10 small dried red chiles, de-stemmed
3 Tablespoons grated fresh ginger root or 1 teaspoon dried
¼ teaspoon turmeric
1 teaspoon salt
3 Tablespoons sweet Hungarian paprika
1 teaspoon cinnamon
Recommended Materials: Mortar and pestle or spice/coffee grinder
Instructions
In a small sauté pan over medium heat toast the cumin, cloves, cardamom, peppercorns, allspice, fenugreek and coriander, stirring constantly for about 2 minutes. Remove pan from heat and let cool 5 minutes.
Using a mortar and pestle or spice grinder, finely grind together the toasted spices and the chiles. Transfer to a small bowl and mix in the remaining ingredients.
Serve immediately with all your favorite Ethiopian recipes or store refrigerated in an air-tight container. Enjoy!