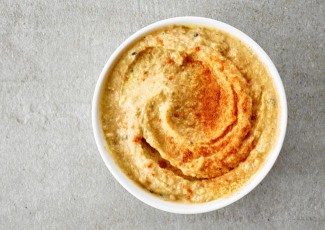 Traditional hummus is lightened up with fresh vegetables and some hemp seeds.
Ingredients
2 zucchini, coarsely chopped
1 red bell pepper, coarsely chopped
1 (15-ounce) can chickpeas, drained
¼ cup lemon juice
1 tsp cumin
½ cup tahini
2-4 Tablespoons olive oil
½ cup hempseeds
Instructions
Add chopped zucchini and peppers to a 9x13 baking dish. Bake for 30 minutes at 450º, stirring after 15 minutes. Remove from oven and let cool.
Blend vegetables and all remaining ingredients in a food processor until very smooth. Add water if necessary.
Serve with pita or fresh vegetables. Enjoy!