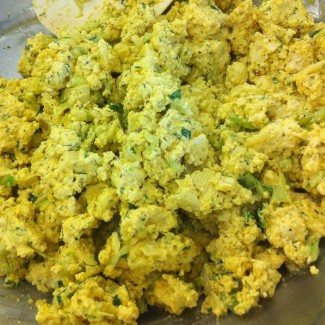 This vegetarian spin on a classic salad has less fat and cholesterol.

Ingredients
1 (12-ounce) block extra firm tofu, drained and patted dry
2-3 stalks celery, minced
3 Tablespoons minced red or sweet onion
1 clove garlic, minced finely
1 Tablespoon minced fresh parsley
2 Tablespoons nutritional yeast
1 teaspoon Spike seasoning
1 teaspoon sugar
½ teaspoon turmeric powder
¼ teaspoon black pepper
1½ teaspoons mustard
1 teaspoon hot sauce (optional)
½ cup vegan mayonnaise
Instructions
Crumble tofu into a large bowl. Add all other ingredients and mix well. Serve in sandwiches, wraps or as a dip for chips or veggies. Enjoy!