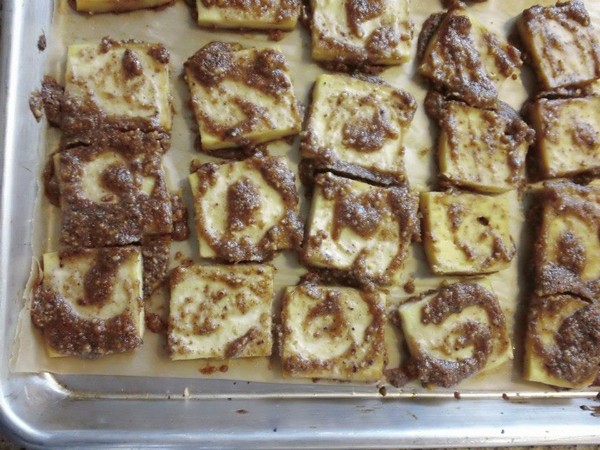 Almond Glazed Tofu
Use freshly-ground, roasted almond butter for this easy and delicious tofu dish. Adapted from Lucid Food by Lousia Shafia.
Updated: Tue, 04/24/2018 - 7:56am
Ingredients
1 (14-ounce) block extra-firm tofu
⅓ cup almond butter
3 Tablespoons maple syrup
2 Tablespoons soy sauce
1 Tablespoon toasted sesame oil
1-2 teaspoons chili flakes
½ teaspoon black pepper
2 Tablespoons olive oil
1 Tablespoon fresh minced ginger
2 cloves garlic
½ cup fresh chopped cilantro
Instructions
Preheat oven to 350ºF. Line a rimmed baking sheet with parchment paper and lay tofu onto pan.
In a small bowl whisk together almond butter, soy sauce, maple syrup, sesame oil, chili peppers, and black pepper. Spread ½ teaspoon almond mixture onto each slice of tofu. Bake 20 minutes.
Flip the tofu and brush with ½ teaspoon more almond butter mixture. Bake another 15-20 minutes, or until tofu is nicely browned.
When tofu is finished baking, heat olive oil in a skillet on medium-high heat. Cook ginger and garlic until soft, about 5-8 minutes. Add tofu and ¼ cup water to pan. Sauté for two minutes, then add remaining almond butter mixture, stirring to combine. Turn off heat, garnish with cilantro, and let stand until ready to serve. Enjoy warm or cold! Enjoy!